Cheerful Conversations Ep. 9
May 9, 2018
/
/
Comments Off

on Cheerful Conversations Ep. 9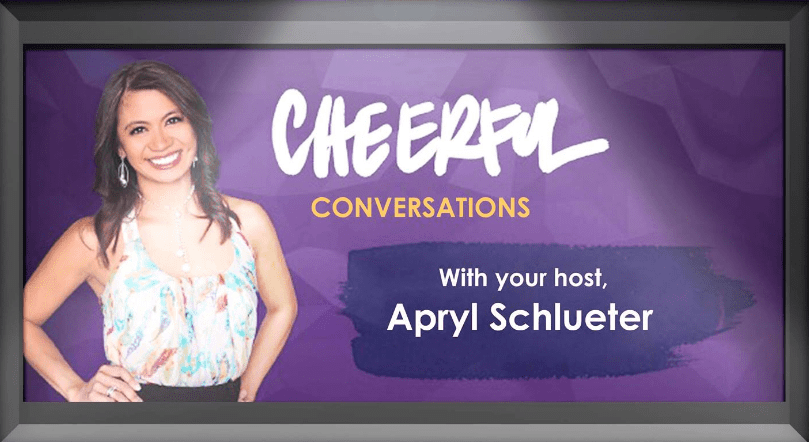 Welcome to Episode 9 of Cheerful Conversations: Cheerful Parenting
In this episode: Join me and my guest co-host, Angie Martin as we dive deep into the concept of parenting.
Note: Before we dive into the episode details, I wanted to share that unfortunately, due to some more technical errors, this episode is sadly one-sided and my guest host cannot be heard. Any salvageable information will be shared in the show notes. There is a second video, an apology video, that shares my in-the-moment reflections when I realized that the audio was messed up, after the show completed. This was devastating to me, because a) it was an AMAZING episode, b) I really wanted my co-host to be heard and seen, and c) the perfectionist in me cringes when putting out sub-quality work.
That said, from Day 1, I knew this process wasn't going to be easy. Putting on a show takes a lot of work, and my initial intentions were to try to do it low-budget style, as much as I could get away with it, but of course, that brings all sorts of its own problems (there's a real learning here of what more can be accomplished when you invest in yourself!). You've watched me work out the kinks as I went, and sometimes it went seamlessly, other times not so great. And I will continue to have growing pains throughout at least the rest of this year and into 2019. BUT, what I want to highlight here is the real life stuff that goes on behind the scenes that you may not see in high-quality productions. I want you to see the triumphs, and hiccups, because that's exactly what happens in real life.
As we move forward, I will be making some additional investments and modifications to the show in order to put out higher quality shows, but I will do so in my own time. I'm giving myself permission to not be perfect with this. And you'll get to see all of this growth along the way. The more important point is that I'm having transformational conversations with people in a positive way, fulfilling my personal values and mission. I can't tell you how appreciative I am to have you on this journey with me.
Now, I expect you to not want to watch this episode because of the technical errors, and this is completely fine. I could have just not posted this video and skipped straight to Episode 10. But, I want you to see it all. Even if I might be judged for it. Because I know in my heart that I am trying the best that I can.
Mad love to you —xoxo Apryl
About Angie: Angie is a Certified Life Purpose coach for Expectant and New(ish) Mamas. Her coaching is focused around JOY and her primary goal is to partner with you on a journey to let go of comparisonitis and fear of failure, while you also rediscover and reconnect with your true self. Through your time together you will find your way back to YOU, as a Woman and Mom and start living your life more confidently and JOYFULLY!
Please subscribe to my YouTube Channel, or Follow me on Facebook/Twitter/Instagram: @thecheerfulmind
or join The Cheerful Mind Newsletter to have Cheerful Conversations delivered to your email!
https://www.thecheerfulmind.com
Join the Cheerful Conversations Contributors Lounge and be a guest co-host on the show!
https://www.facebook.com/groups/cheerfulconversations/
Have a question for Apryl to answer in a future show?
Ask Apryl Anything: https://www.thecheerfulmind.com/aaa/
Show References:
Vulnerability is Sexy Game: http://www.roundtablecompanies.com/services/vulnerability-is-sexy/vulnerability-is-sexy-the-game
Angie Website
www.angiemartincoaching.com
iPEC Coaching:
https://ipeccoaching.com/
Boss Mom's Group:
https://www.bossmoms.org/
Cheerful News:
Angie: http://bit.ly/2rSMdiH
Apryl: http://bit.ly/2L8QTd7