Cheerful Conversations Ep. 4
May 1, 2018
/
/
Comments Off

on Cheerful Conversations Ep. 4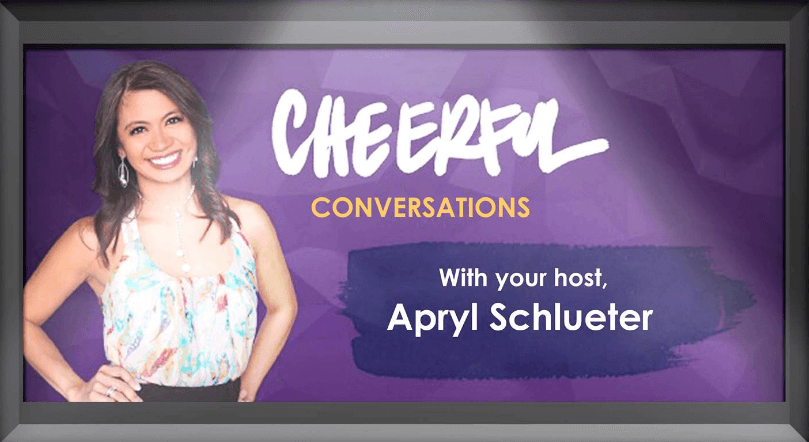 Welcome to Episode 4 of Cheerful Conversations: Entrepreneurs in the Trenches!
In this episode: Join me and my guest co-host, Jon Weisberg as we celebrate celebrate 3 years of The Cheerful Mind, Inc. and talk about the highs and lows of being a business owner! Jon faced his own challenge of technical difficulties minutes prior to the start of the show, but super proud of him for making it happen, even if it meant a less than perfect show.
Note: I know that we're still dealing with technical issues with the Ecamm integration to FB live (last show, we had issues with echos, and this week, we figured out the echo, but now there's still skips in the video and cutting out for the guest host. (And unfortunately, the photos I thought I was able to share on my screen did not show up in the video. I'm trying my best to figure it all out, but not letting it stop me from putting myself out there…and here's me totally showing the ups and downs of producing a show – but I appreciate your patience and loyalty as I work through these kinks!
Enjoy!
About Jon: A Chicago native who spent the last six years in Corporate America working before leaving his job to jump into entrepreneurship, he followed his passion of travel to partner with his best friend to start A2Z Travel Concierge in Tucson, Arizona. Outside of his business venture, his hobbies include travel, playing sports, and attending social and networking events.
https://www.facebook.com/jon.weisberg.7
Please subscribe to my YouTube Channel, or Follow me on Facebook/Twitter/Instagram: @thecheerfulmind
or join The Cheerful Mind Newsletter to have Cheerful Conversations delivered to your email!
https://www.thecheerfulmind.com
Join the Cheerful Conversations Contributors Lounge:
https://www.facebook.com/groups/cheerfulconversations/
Show References:
Have a question for Apryl to answer in a future show?
Ask Apryl Anything: https://www.thecheerfulmind.com/aaa/
Forefront Event (via Ramit Sethi/IWT)
http://forefrontevent.com
Board Game, Settlers of Catan
http://amzn.to/2G1Kn5L
Vulnerability is Sexy Game: Click here
Zero to Launch:
https://growthlab.com/products/zerotolaunch/
Cheerful News:
Jon: http://wapo.st/2Fwneun
Apryl: http://bit.ly/2I8xLue
Camera Roll Photos (since I totally failed on showing them in the show!):