Cheerful Conversations Ep. 41
December 11, 2019
/
/
Comments Off

on Cheerful Conversations Ep. 41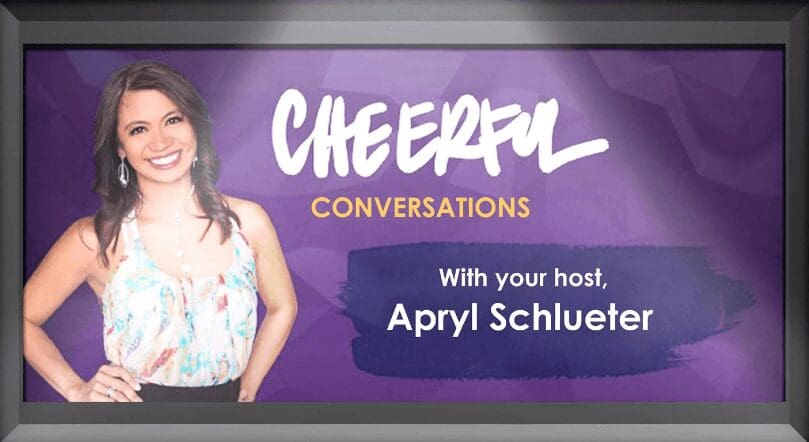 Welcome to Episode 41 of Cheerful Conversations: 2019 In Review
In this episode: Join me and some of the past co-hosts as we reflect on 2019!
About Pat Dwyer: For the last 15 years Pat Dwyer has traveled the world, working with organizations big and small, to unlock the power and profit of laughter and levity in their cultures and daily stakeholder interactions. As an award winning improv comedian and professional speaker, Pat bring his energetic and interactive style, to help attendees become better leaders, managers, salespeople, teammates and (as recently informed) spouses. Having worked at some of the most notable improv comedy theaters in the world, including the world-famous Second City Theater, the iO Theater and ComedySportz in Chicago, IL, Pat harnesses his unique ability to keep a room laughing while delivering a keynote or breakout, uniquely crafted for your team. A program specifically designed to inspire, excite, energize and harness the full power of laughter to boost the bottom line.
About Emily Hicks-Rotella: In her day job, Emily Hicks-Rotella manages technology at an education non-profit. Through her own business, Make Tech Work For You, Emily provides coaching to all mission-driven people and organizations to learn, use, and love their technology. Emily lives in the Bronx with her wife and two young children.
About Scott Rose: Scott Rose is The Inspirational Nerd. He is a keto health coach & motivational speaker, who inspires & guides people to live their very best lives by becoming fully healthy & happy.
About Samantha Vernerin: Sam Varnerin has been a professional cuddler for four years and left her engineering job to do it fulltime in 2017. Her mission in life is to make sure no one feels alone on their journey, and she meets people where they are around asking for what they want, especially around touch. She also runs Sam's Snuggle School, an online program for professional cuddlers to build a thriving practice ethically and professionally.
Please subscribe to my YouTube Channel, or Follow me on Facebook/Twitter/Instagram: @thecheerfulmind
or join The Cheerful Mind Newsletter to have Cheerful Conversations delivered to your email!
https://www.thecheerfulmind.com
Have a question for Apryl to answer in a future show?
Ask Apryl Anything: https://www.thecheerfulmind.com/aaa/