Cheerful Conversations Ep. 5
March 2, 2018
/
/
Comments Off

on Cheerful Conversations Ep. 5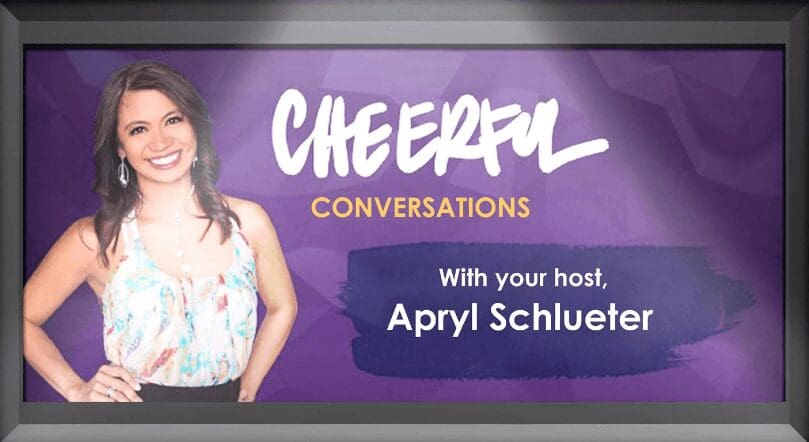 Welcome to Episode 5 of Cheerful Conversations: Simple Fun!
In this episode: Join me and my guest co-host, Deb Seymour as we celebrate Pi day, and talk about ways to have more fun with the simpler things in life!
Update on tech issues: I think we're making progress finally! Woohoo!
About Deb: She is Certified Professional Life Coach who offers both individual and group coaching services on personal & professional leadership. She enjoys putting together retreats at her lakehouse in Maine with small groups of women looking to reconnect back to their awesome selves while enjoying adventurous excursions of white water rafting, hiking and kayaking.
http://www.deborahseymour.com
Please subscribe to my YouTube Channel, or Follow me on Facebook/Twitter/Instagram: @thecheerfulmind
or join The Cheerful Mind Newsletter to have Cheerful Conversations delivered to your email!
https://www.thecheerfulmind.com
Join the Cheerful Conversations Contributors Lounge:
https://www.facebook.com/groups/cheerfulconversations/
Have a question for Apryl to answer in a future show?
Ask Apryl Anything: https://www.thecheerfulmind.com/aaa/
Show References:
Echo Dot: https://amzn.to/2Gk99xd
Accountability Success Circle: https://thecheerfulmind.com/asc
Institute of Professional Excellence in Coaching (IPEC): https://ipeccoaching.com
Vulnerability is Sexy Game: Click here
Yes and Know Activity Books: https://amzn.to/2GdrdNE
Magnetic Toy I couldn't name: https://amzn.to/2IVqEWp
Cheerful News:
Deb: https://usat.ly/2E0zRZR
Apryl: https://bit.ly/2E0vm1s